The Foundation for Baltic and East European Studies was founded by the Swedish Government in 1994. Its mission is to support research, doctoral studies and scientific infrastructure related to the Baltic Sea Region and Eastern Europe at Södertörn University. As a research funder, the Foundation has a distinct profile defined in its Statutes: its geographical area is specified, and its purpose is defined as supporting development of Södertörn University.
The Foundation's research funding can be divided into two categories. Partly grants that can be applied for by individual researchers or groups of researchers, partly funding that can be granted to Södertörn University after application by the Vice-Chancellor. The Foundation can support its own as well as external initiatives.
Funding for researchers who apply for grants directly from the Foundation consist primarily of support for various types of research projects, but also to create opportunities for cooperation between researchers in networks or at conferences.
The research projects are primarily in the Humanities and Social Sciences, but also within the Natural Sciences, particularly research into environmental issues. All research the Foundation supports must be related to the Baltic Sea Region or Eastern Europe.
All forms of support from the Foundation are open to researchers both in and outside Sweden.
Funds applied for by the Vice-Chancellor at Södertörn University have been granted to, among other things, a dedicated Baltic and East European programme for professors and associate senior lecturers, to the Baltic and East European Graduate School, BEEGS, and to the Center for Baltic and East European Studies, CBEES. Extensive funds have also been granted to Södertörn University's library. The Foundation also funds the journal Baltic Worlds and the annual report State of the Region.
The Foundation is led by a Board appointed by the Government (two members) and by the Board itself (seven members). The Board has set up a research committee to assess applications and advise the Foundation on research issues and an investment committee to manage the Foundation's assets.
According to the Statues the entire capital cannot be depleted, only the direct return can be used for the Foundation's purposes.
Distribution of funds 2021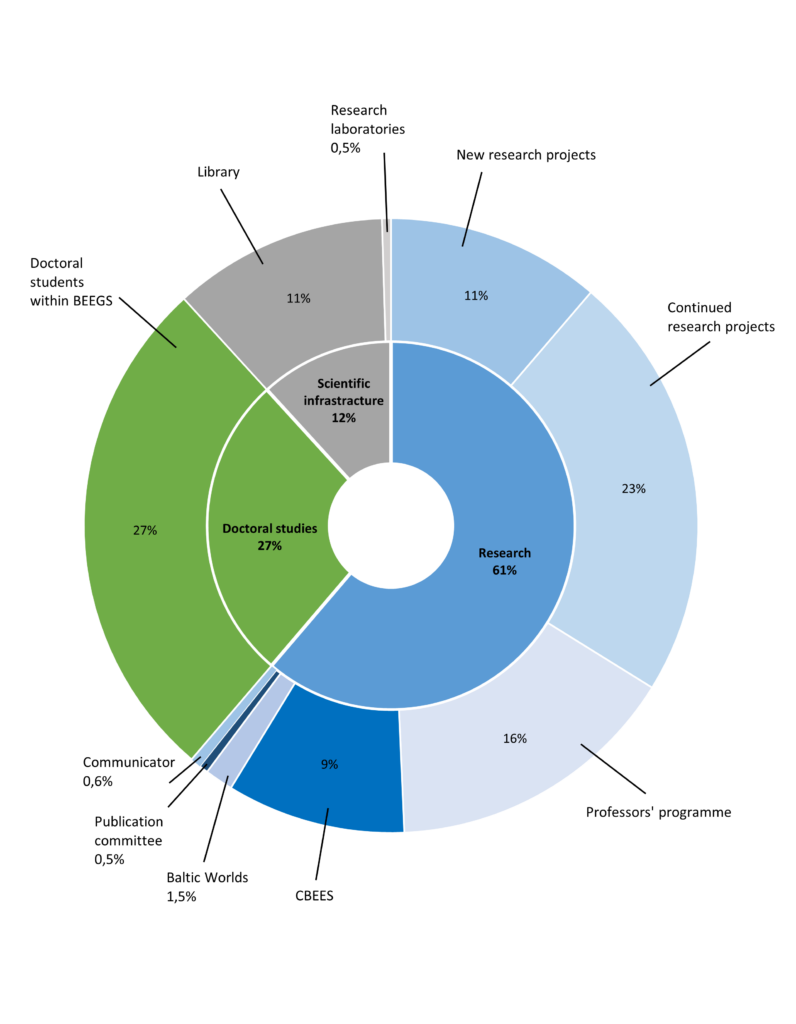 | Activity | Funds for 2021 (SEK) | % |
| --- | --- | --- |
| Research | 90,832,000 | 61.3 |
| New research projects | 16,727,000 | 11.3 |
| Continued research projects | 33,454,000 | 22.5 |
| Professors' programme | 22,946,000 | 15.5 |
| CBEES | 13,965,000 | 9.4 |
| Baltic Worlds | 2,208,000 | 1.5 |
| Publication committee | 700,000 | 0.5 |
| Communicator | 832,000 | 0.6 |
| | | |
| Doctoral studies | 40,000,000 | 27 |
| Doctoral students within BEEGS | 40,000,000 | 27 |
| | | |
| Scientific infrastracture | 17,470,000 | 11.8 |
| Library | 16,770,000 | 11.3 |
| Research laboratories | 700,000 | 0.5 |
| | | |
| Total | 148,302,000 | |

Last updated: 2022-12-06