The Foundation for Baltic and East European Studies was founded by the Swedish Government in 1994. Its mission is to support research and doctoral studies and scientific infrastructure at Södertörn University. A large part of the granted funds has been allocated to various research projects primarily in the Humanities and Social Sciences, but also to research within the Natural Sciences, particularly research into environmental issues.
The Foundation for Baltic and East European Studies contributes to The Centre for Baltic and East European Studies (CBEES) which was founded at Södertörn University in 2005 and to The Baltic and East European Graduate School (BEEGS). Funds are also granted to the university's library. Since 2008, the Foundation has been financing a quarterly scholarly journal and news magazine Baltic Worlds. The Foundation also funds a professors' program at the university. Additionally, funding is granted to publications, travel and conferences among other things.
The Foundation is led by a Board appointed by the Government (two members) and by the Board itself (seven members). The Board has set up an investment committee to manage the Foundation's assets and a research committee to prepare research issues.
According to the Statues the entire capital can not be depleted, only the direct return can be used for the Foundation's purposes.
Distribution of funds 2021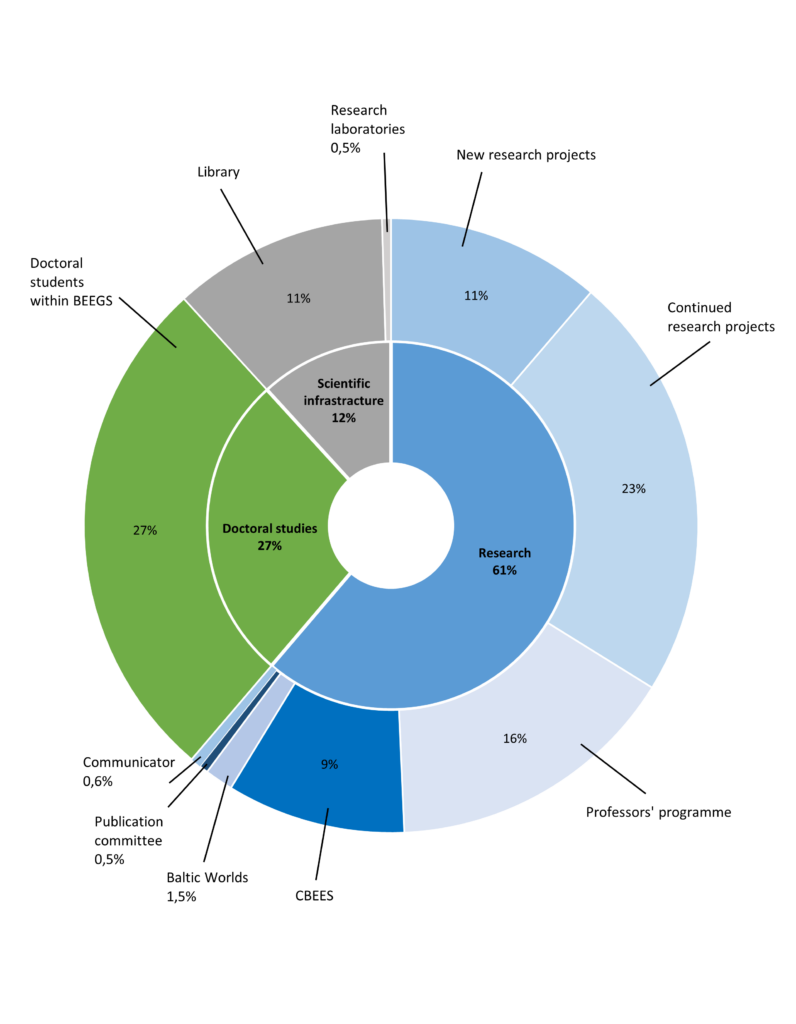 | Activity | Funds for 2021 (kSEK) | % |
| --- | --- | --- |
| Research | 90,832 | 61.3 |
| New research projects | 16,727 | 11.3 |
| Continued research projects | 33,454 | 22.5 |
| Professors' programme | 22,946 | 15.5 |
| CBEES | 13,965 | 9.4 |
| Baltic Worlds | 2,208 | 1.5 |
| Publication committee | 700 | 0.5 |
| Communicator | 832 | 0.6 |
| | | |
| Doctoral studies | 40,000 | 27 |
| Doctoral students within BEEGS | 40,000 | 27 |
| | | |
| Scientific infrastracture | 17,470 | 11.8 |
| Library | 16,770 | 11.3 |
| Research laboratories | 700 | 0.5 |
| | | |
| Total | 148,302 | |